Teamwork.com released Board View for Tasks a little over a month ago. For some, this task view will not fit their project management style and for others, it answers a demand that has been stemming for a while. Now that we all have had a chance to play with Board View for Tasks, it's now time to go to the next level in terms of usage.
In each project board, you can have as many columns as you want. A typical setup would be pending, in progress and completed. As mentioned in our previous blog introducing Board View for Tasks, your setup of boards is completely up to you.
Each Board is filled with cards or tasks that are either currently entered into Teamwork.com or you can create new cards (tasks) from Board View for Tasks.
Each Board is not like the Other
One question that we often receive is about the details shown on the boards. Do they all have to be the same? The answer is no. Unlike list view for Tasks, the information shown on each board does not have to be the same. In essence, you could show a decreasing amount of information for each card as it moves down your process pipe. Once completed you can ever filter completed cards from the board.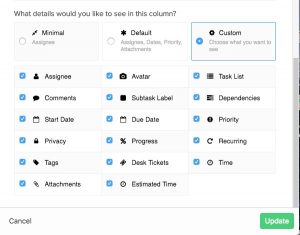 For each column, you can select what details of each card (task) that you see. In a typical setup of Pending, In Progress and Completed, pending would have the most details, pertinent to task and the project manager so that they know easily what needs to be done.
In Progress could simply show the task assignee name, progress, due date, estimated time and any tags that are on the file.
Completed could show the assignee, tags and may the time on the card (task). But the obvious is clear, your options are endless when selecting what you want to see on each board (column) on Board View for Tasks.
As you move cards (tasks) around from board to board, the card automatically changes to only show the information that you have selected for that particular board.
Completed Tasks Clogging the Board
Now, on any given project there will be a considerable amount of completed tasks that may need to hidden. This will depend on your associated usage of Board View for Tasks and may not be relevant to the Pending, In Progress and Completed usage as stated above. So how, do you hide the completed cards (tasks)?
If you hover your mouse at the top of the board you should see a downward facing arrow. Click on it and you will see a number of options including Archive Completed Tasks. All of the completed tasks on the particular board will no longer appear on the board. If you have Archived a card that shouldn't be you can get it back. If you click the menu button directly to the right of the "Add Column" button you will see an option to View Archived Cards. This will bring up a dialogue box that will show you all of the archived (completed) tasks. Simply uncomplete the task and it will immediately show again in the last board (column) that it was located in prior to being completed.
Filtering My Tasks
One of many fantastic features within Teamwork.com has always been the filtering ability. Board View for Tasks does not forget about this feature. If your board has hundreds of cards (tasks) and you want to find one with a keyword, simply press the downward arrow at the top of the board and click filter. This makes a search box appear at the top of the card. Please note that it is only searching the particular board on which you selected the filter option.
As you can see Board View for Tasks is certainly not a cookie cutter approach to managing tasks. This new view allows for more customization to meet your project management style. Setting up Board View for Tasks is something that may take some time to get it right. It will probably require some trial and error to get it right. Our Teamwork Experts can assist your company in determining the best way to setup Board View for Tasks for your organization. For more information on our teamwork training, please visit https://onemotion.ca/teamwork/
Next month we will continue to explore Board View for Tasks and the many features that can help you manage your projects more efficiently.