We often hear that many SaaS based software solutions are not flexible. Users are forced to follow their prescribed process or methodology on how to do things. While this may be true and perhaps, a valid business model, one of the impressive things about Teamwork.com is their desire to go against the grain and give users the ability to do things the way they want to. Let me introduce Board View for Tasks.
Teamwork.com has recently introduced a new feature called Board View for Tasks. Board View for tasks allows users to create a visual workflow of your tasks so that anyone can easily see the progress of any project.

Living in a visual world we have seen tweets now including a visual aspect, Instagram has become a phenomenon where we are simply sharing photos and bit of text. The ability to manage tasks in a visual form gives team members the ability to easily and efficiently create, change and view tasks-in-progress quickly. Not to mention, this ability ensures teamwork.com works well within a multi-generational team.
Benefits of Board View for Tasks
According to Teamwork.com, this new Board View for Tasks will improve your team's efficiency by:
Easily and instantly identify the progress of a project and watch the statuses of various tasks change as they move from column to column.

Know the status of every task on the Board and understand who's working on what, this is particularly useful for anyone working with a large volume of tasks daily.

Reveal the logistics of your project. For many people, the project's "aha!" moment comes only when seeing their actual process presented visually and how they fit into the ecosystem of that project.

Set up a board very quickly to suit each project and the process you use within it. Board View allows you to instantly visualize a workflow that you have created.

Get an immediate sense of accomplishment and motivation watching your project move along the various stages of completion across your board!
One of the best parts about this new view is that you don't have to do anything to activate the feature.  If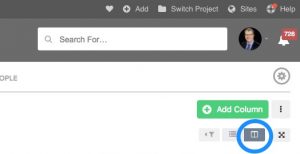 you want to view your tasks today in Board View click the button. Tomorrow, if you want to view the task list, simply click that button. The best part: all of the tasks you added to a board will appear on your list view and you will see a notation on the task as to what board that task now resides.
New Features
We will explore some of these features in our next teamwork tip of the month, some of the new and exciting features of Board View for Tasks are:
Easily change task list views.

Drag and Drop; you can easily drag and drop tasks from different boards to show a change in status.

Customization; you can customize what you see on each board. Keep in mind this is not for all boards. You can customize what you see on each one.

Automatic Sorting; there is an option that creates an automatic sort on each of your columns. It will show your cards in groups based on your criteria.

Archive completed cards; allows you to hide/unhide completed tasks on the board.

Default Columns; you can set it up so that every time you create a new project the same columns appear. This will ensure the process is followed.

Speed; I have been using Board View for Tasks for over a few weeks and every time the interface is speedy.

Mobile Support; Board View for Tasks is on the mobile app and makes moving from the browser to the app very easy.
The addition of Board View for Tasks is exciting. Not only does it show that a SaaS based software company is willing to continually enhance their product offering, it also clearly shows that you can manage your projects the way you want to. A subsequent feature is it allows different users to manage their tasks in a way that suits them best. The key thing to remember is that if you turn on Board View, it does not turn it on for others. They can choose which way to view their tasks.
Teamwork.com Certified Experts
Our Teamwork.com Certified Experts can show you how to integrate this new feature into your processes. We work with you to establish a proper task strategy to ensure that your team is aligned. While the tools may have different options, views or features, the alignment of the team will ensure that everyone is working towards a common goal and that your team completes their projects faster. Reach out and we'll talk!