There have been numerous times over the last year where I look at the pricing levels on teamwork.com and think to myself that outside of the maximum number of projects, why would anyone want to upgrade? On June 30, 2017, Teamwork.com introduced a feature that is only available on the professional level and above and that is Teamwork Portfolio.
Teamwork Portfolio solves the age old question, how do I manage multiple projects at the same time. We all know we do it, but until now, all the projects have been siloed and outside of the time report, you would not see projects listed together.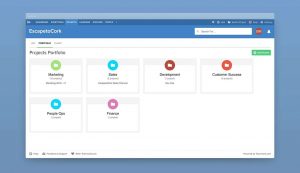 Based highly on the successful Board View for Tasks, the visual concept for managing tasks has been introduced into the management of projects. You can add projects to a board, move them around and instantly assess the progress of all of the projects.
This new feature allows you to easily view all relevant information on a grouping of projects that have been grouped by you. This will make all of the project managers, management and executives happy that they can now get a high-level overview of all projects without having to click through multiple screens and run separate reports on all of the projects.
If your current subscription allows you will see Portfolio on the Projects Tab between list and chart. If you cannot see the portfolio button you will need to upgrade your plan to try it out. Spoiler: we think it is worth the cost if you manage any more than 3 projects.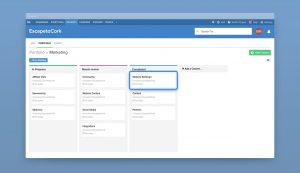 Like Board View for Tasks (which we reviewed in April), simply click "add board," choose a super cool, descriptive name and start adding your columns. The backlog button shows you the full listing of your active projects. To no surprise, adding a project to a board to really easy, simply drag it over to the appropriate board.
Pro Tip: Each board within a portfolio should reflect a stage, status or milestone that you use to track the status of your projects. This then provides an instant project status at a glance on all projects within a portfolio.
Now, once a project has been added to a board, it appears in card view. Now, click the card of a project added to the board and instantly you will get more detail on the project. It will show you the same project summary that we all see every time we open a project. The awesome part about this that we can access all of the project summaries just by clicking the cards and not having to navigate into each and every project to get the status.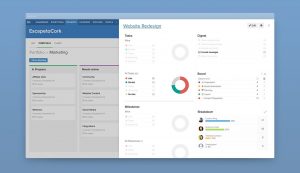 Similar to board view for tasks, you can easily customize what information you see about each project. There is a minimal view, a standard view and of course, a custom view. Teamwork has created a highly detailed help document that can be accessed by clicking here.
The main issue about this feature is that it is not available to those who subscribe to the small office or free forever plan and the Professional Plan is about $100/month more than the Small Office plan. So, is $100/month worth the cost of a portfolio view that provides an instant overview of all of your projects?
For us and for our clients the answer is always maybe. We have looked at other project management software that is more expensive and it does not do this. We have looked at the cost of custom development to achieve a project level overview of all projects and that is not cheap. So, does an extra $1200/year make sense for these reports? The answer depends on the need for high-level metrics.
Teamwork.com has admittedly lacked in high-level metrics, this is definitely leaps and bounds ahead of anything else we have seen. If you are currently spending a considerable amount of time preparing for status meetings or preparing reports for management and executives, this feature will undoubtedly save you time and money. But, if you need this type of reporting, it is a great investment.
OneMotion specializes in helping companies determine their software needs and integrating software into their current environment. Let us help you and if there is something you would like us to write about, leave us a comment below and we will do our best to include it in our next Teamwork Tip Of The Month!